Veneers are thin tooth colored shells that fit on the facial surface of chipped or stained tooth to improve their appearance. Sometimes they are also referred as dental laminates. In general, there are few types of veneer depending on the materials used. For example porcelain veneers and composite veneers. Our dentists will discuss the pros and cons of each material with you and suggest the most suitable one for your case. Porcelain veneers are more lasting and offers unsurpassed aesthetic. On the other hand, composite veneer might cost slightly less and can be done in single visit.
If you have following conditions, our dentists might suggest dental veneer :
stained teeth that cannot be bleached
chipped or worn teeth
crooked or malformed teeth with poor aesthetic
Spacing between the upper front teeth or uneven gap
Your teeth and gum should be reasonably healthy
No major teeth alignment problem
If you clench or grind your teeth at night, discuss with our dentists 
 Although only minimal tooth preparation is required, veneer is permanent and irreversible. Discuss and explore other treatment options with our dentists.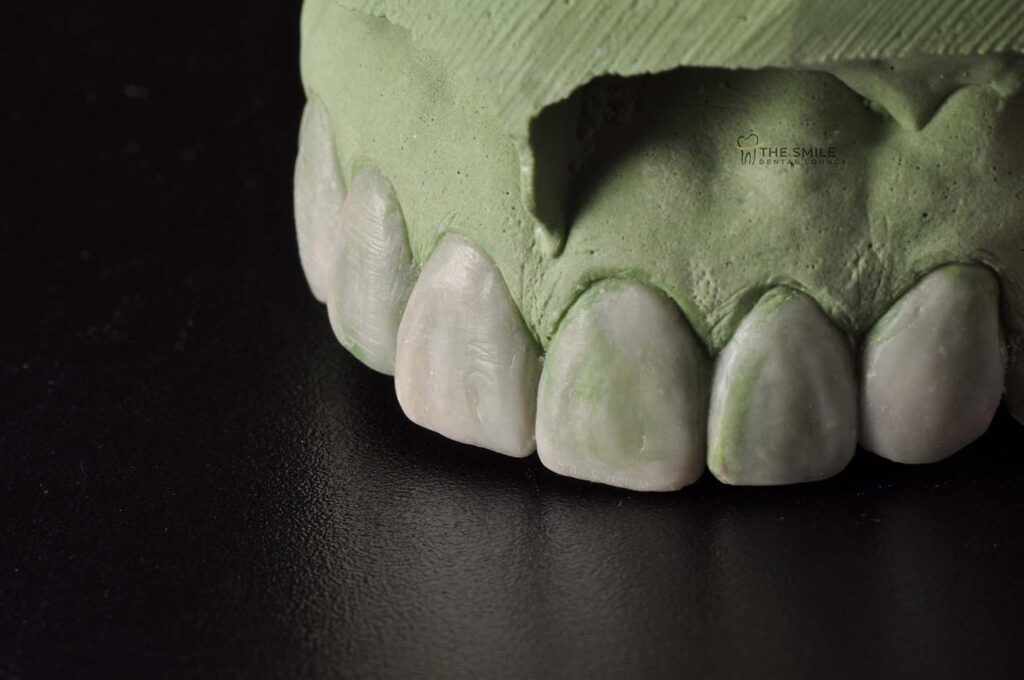 Veneer is something permanent and requires careful diagnosis and planning before trimming teeth. It is often a multi-step procedures that spread through a few visits.
Consultation and Diagnosis
Our dentists start with talking to the patient to know their aesthetic concern and which specific area they would like to improve their smile. A comprehensive oral examination is done to rule out untreated cavities and gum diseases. Other minor things like the personality, how you smile and talk will be also taken into account. 
Mock Up
Dental impression (imprint of your teeth) will be recorded and correlate with the photo of your teeth and face. A customized diagnostic wax up on the dental cast help us to decide the appropriate shape and length of the tooth. Upon patient approval, the diagnostic wax up can be transferred into the mouth for a "test drive" using temporary material. During this process, the teeth remain intact and not trimmed. The shape and length of the teeth, speech, smile curve and relationship with lips can be assessed more accurately. 
Teeth preparation
If the patient is satisfied with the simulated outcome, we can proceed to prepare the teeth. Only a thin layer of tooth structure is removed to accommodate the thickness of veneer so that it won't appear bulky and interfere speech. Patient will leave the clinic with nice temporary veneer.
Cementation Day
The final porcelain veneers are bonded to the tooth surface. A few clinical steps in this visit are crucial to make sure the veneers will not fall off of stain at the edges. After that, we will schedule follow up visit to review the veneer and oral hygiene.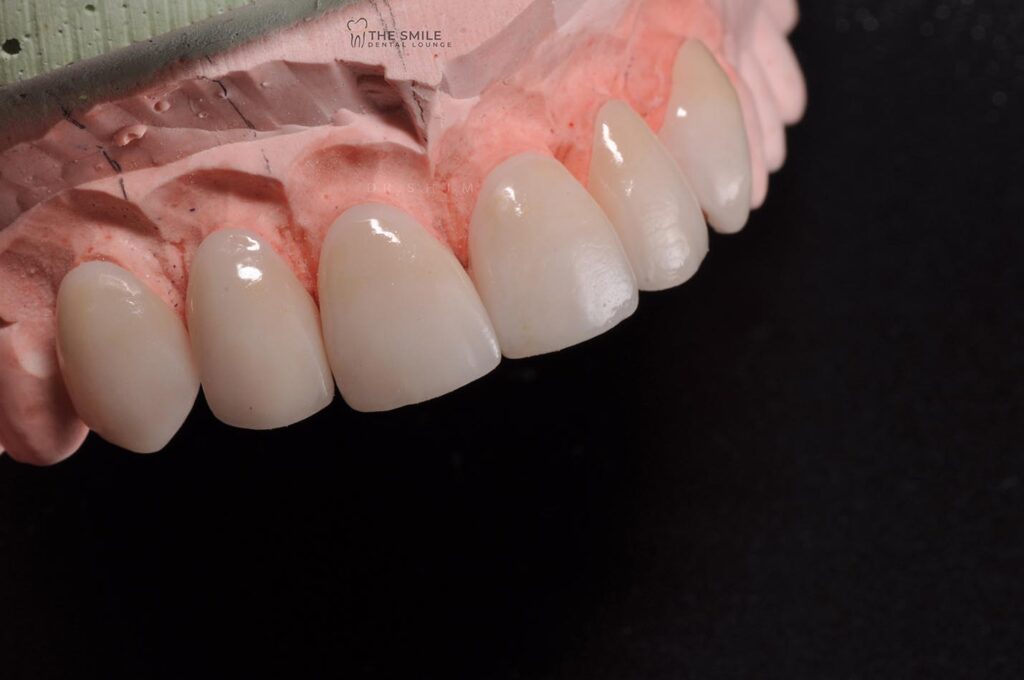 Veneers are permanent but they are not forever. In general, they can last more than 10 years if properly done and taken care. It is like our ceramic plate in kitchen. It can last for generations until you dropped it on the floor.
Minimal tooth preparation is required for veneer. However, due to structure of the tooth, it is inevitable to expose dentin (the second layer of the tooth) at some area especially near the gum line. This might lead to some mild sensitivity. Therefore, local anaesthesia is often offered to make sure the hours-long procedure more comfortable. This is all temporary discomfort and patients usually will enjoy the new smile few hours later. 
Porcelain colour is stable and remain unchanged after years. However, if not bonded correctly or contaminated during the bonding process, the margin can stained after some time. Tobacco, wine, heavy consumption of tea or coffee will also potentially stain the natural part of the teeth and affect the overall appearance of the veneers. 
How to take care of veneers?
Caring for veneers is not any different from our natural teeth. Maintaining good oral hygiene by brushing and flossing are still important to ensure the longevity of your investment. Avoid biting on hard shell/bone or crushing on ice.