Unlike removable denture, crowns and bridges are fixed prosthetic restoration. They are cemented on existing natural teeth or implants. Thus, they cannot be removed by the patient. If necessary, dentist can remove or redo the crowns and bridges using special tools.
A crown is a cover or "cap" that cemented on tooth. It is usually made of ceramic, porcelain or metal like stainless steel and gold. Conventional crown is referring to porcelain fused to metal crown. It has the balance of strength from metal core and aesthetic value from the overlying porcelain. However, with the advancement of dental material and 3D technology in recent years, its popularity has slowly taken over by full ceramic crown. Nowadays, patients demand for even better quality material especially in term of longevity and aesthetic aspect.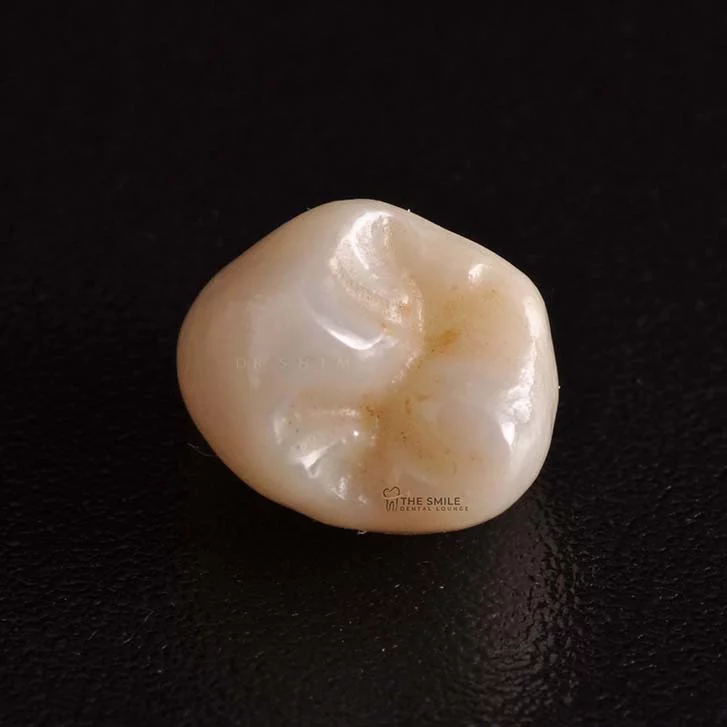 Full ceramic option has came a long way in the past few decades. From the notorious brittleness in the past, it made progress to achieve the superior strength that equal, if not better than metal counterpart. 
Today, the most popular full ceramic materials include lithium disilicate (Emax), high translucency monolithic zirconia and other hybrid composite material. These materials offer excellent translucency and able to match the shade of neighbouring natural teeth to give life-like restoration. For back teeth, monolithic zirconia crown is milled from a ceramic block using 3D technology. The monoblock structure offers excellent strength especially for heavy loaded back teeth.
When do you need a crown?
Our dentist might recommend a crown if you have one of the following problem :
Heavy restored tooth with large filling and little remaining tooth structure
Protection for cracked tooth
Discolored or malformed tooth
Root canal treated tooth
Cover a dental implant
Attach a bridge
Basically, a bridge is multi-unit crowns that linked together to replace missing tooth. It is cemented to the neighbouring teeth (referred as abutment teeth) which are trimmed and prepared. The replacement tooth (referred as pontic) is attached to the crowns on abutments.
A bridge is a viable option before the emergence of dental implant. It is more acceptable to patient compared to removable denture thanks to its stability and fixed nature. Until today, it is still popular because not all cases suitable for dental implant. In certain cases, it might be better to restore with bridge to give better aesthetic outcome. Besides, bridge can be also used to span the space between 2 implants. As with crowns, choice of materials is available based on function, cost and aesthetic considerations.
After numbing the area, our dentist will reduce the size of the tooth minimally, just enough for the optimum material strength and optical characteristics. Then, an impression (or mold) will be taken to duplicate the teeth in dental stone. Alternatively, a scan will be performed for digital workflow. Shade of neighbouring teeth will be recorded to match the colour and surface characteristics. Temporary crowns and bridges will be cemented to restore the appearance and function.
At the dental lab, our master ceramist will craft a precise, life like restoration that fits seemlessly into your smile. Each of these masterpieces are bespoke and represent a complex blend of art and science. Back to the clinic, our dentist will remove the temporary restoration and fit in the final crown or bridge. Once cemented with advance adhesive technology, you can immediately enjoy favourite food and show off the new dazzling smile after leaving the clinic.
How long can crowns and bridges last?
Based on literature, crowns and bridges can last at least ten years or more. If done properly, it is not uncommon to see them last a lifetime. The main factor causing the short lifespan is usually due to poor oral hygiene. Thus, you can extend the life of crowns and bridges with impeccable oral hygiene practice at home and regular dental check-up every 6 monthly.
Dental Clinic | Johor Bahru