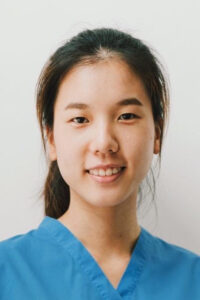 Dr. Joan Chee
BDS (AIMST)
Dr. Joan is a young and passionate dental surgeon who is known for her gentleness and patience.
She obtained her Bachelor of Dental Surgery from AIMST University in 2018.  Upon graduation, she served as a dental officer with the Ministry of Health in Sarawak and has attached with the Department of Oral & Maxillofacial Surgery and Paediatric Dentistry during her 2 years serving in the government sector.
Thanks to her passion in dentistry, Dr. Joan actively involved herself in various dental courses especially in aesthetic restorative dentistry. She strongly believed that the function and aesthetic of the teeth are equally important for the patients' well-being. Patients' needs is always her priority in treatment planning. In addition, she is good in children dentistry and loves to deal with the little ones as a good dental health starts at an early age.
Being a person who is focusing on self-development and personal well-being, Dr. Joan loves to spend her free time reading up various articles and doing pilates exercises.
Philosophy:
"I believe that if you can smile happily with confidence, your life can be as wonderful as you can imagine."